Senior portraits for high school seniors
Don't make do with the senior portraits from the high school photographer. Let's design custom senior portraits that capture your personality and style.
We'll create a variety of looks
Are you glam, a gamer, bookish, introverted, on your way to art school, or prefer a top-10 party school?
I want to photograph who you are now and who you want to be.
Maybe you want a magazine-style photo with gorgeous hair and makeup that gives you a glimpse of what your future could be.
Or maybe you're most at home in a vintage t-shirt you found at your favorite thrift shop.
Or maybe you don't know exactly what you want, but you want to look interesting and pretty and like your whole future is ahead of you and it's going to be fabulous!
We'll talk about who you are and who you want to be. I'll design your senior portrait session around the way you want to be seen.
From the moment I walked inside, she made me feel welcome, and it was clear throughout our session that she cares about her clients.

Margit S, Pasadena
My senior portrait sessions are fun and relaxed
I want to capture your authentic personality and style. I can do that by making sure you're relaxed and having fun. My sessions are stress-free. When we're in the studio I have your favorite music playing and plenty of snacks to keep your energy up.
In-studio and outdoor locations
I have outdoor locations at my studio. The image below was created there.
For the best variety, you want in-studio and outdoor portraits.
My studio has a variety of backdrops and professional lighting equipment. I use hand-painted canvases for magazine-style backgrounds. My camera and lenses are professional-grade.
I've been photographing people professionally for over ten years and I have numerous 5-star Google reviews.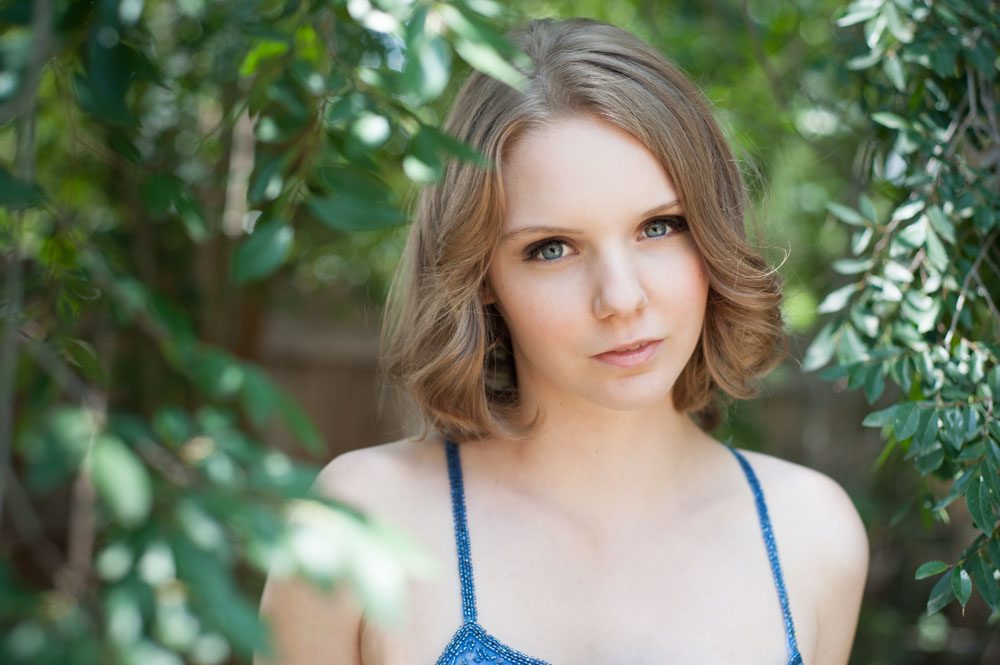 Rebecca has the amazing talent to make the very nervous me feel comfortable in the studio.

Jill Masters, Los Angeles
We'll have a Design Session to talk through everything
We go over absolutely everything, from how to prepare to what kind of photographs you want.
We'll talk about outfits and hair and makeup.
We'll talk about any special items you want to bring to your session.
Do you need gifts for grandparents or a special portrait for Mom? I always customize my session to you, but take into account the portraits that parents need too.
By the time your session rolls around, you'll feel totally prepared and confident.
Wardrobe for boys' senior portraits
For boys, a good starting point for a variety of looks includes a suit and tie, a sweater with some texture, jeans and a t-shirt, a shirt with a pop of color, and a nice button-down shirt.
It's always better to have too many outfits than not enough. We hang up all your clothes in the studio – that makes it easy to sort through them and choose the best combinations.
Wardrobe for girls' senior portraits
A good variety for girls' senior portraits includes your prom or graduation outfit, jeans and a t-shirt, your favorite sweater, a casual dress, and any clothing that has special significance.
A variety of textures and patterns is also recommended. It's better to have too many outfits than not enough.
The most important thing is to bring clothes you love and feel comfortable in.
Even if that's jeans and a t-shirt, or a fabulous tulle skirt and your favorite Doc Martens.
It's better to bring more clothes than not enough
Most girls arrive with an armload of clothes, plus a couple of bags of accessories. That's ok! We won't use everything, but it's good to have a variety so we can style different outfits.
For jewelry, I suggest keeping it simple. Delicate necklaces and earrings and your favorite rings are usually the best. Whatever you wear as part of your personal style is fine. Don't feel like you have to go out and buy something that doesn't suit you. Be comfortable!
I'll send you a Prep Guide that comes with a handy checklist so you don't forget anything.
There's a lot to remember for your senior portrait session. That's why I make it easy and write it all down in my Senior Prep Guide that I send after our Design Session.
Treat yourself to professional hair and makeup
My hairstylist can give you the perfect blowout, from super straight to beachy waves. They have a kit stocked with every hair product imaginable and professional styling tools. They have years of experience on film and tv sets and weddings.
My makeup artists can do winged eyeliner, smoky eyes, fabulous brows, and add lashes that make your eyes pop. Or they can create a fresh natural look. It's up to you. They use professional products and their makeup kits are amazing. They'll even give you product recommendations.
It's fun to feel like a celebrity for the day and have a professional create the perfect look. It's one less thing to worry about.
Getting your makeup done is one of the best things ever! I felt super confident and totally feeling beautiful.

Bri Orozco, Alhambra
I make you and your mom happy
You have specific ideas about your senior portraits. And so do your parents. My job is to make everyone happy by creating different scenarios and setups and capturing something for everyone.
At our Design Session, I'll sit down with you and your parents and get everyone's input.
I guide you through posing
It can be nerve-racking to have a professional photo shoot. It's not the same as taking a selfie.
How do you stand, where do you put your hands? Should I smile or be serious? Don't worry! I guide you through it all. We create a variety of looks from serious to smiling, from lifestyle to moody editorial looks. And we'll talk about it all before your session.
She has the ability to make you feel completely comfortable and brings out the best in you (and captures it beautifully!)

Indyra F. Pasadena
Props are welcome
I've included musical instruments, pets, and other personal items in a senior portrait session. Let me know your ideas.
What's included?
Senior portrait sessions include professional hair & makeup, and an assistant to help with touch-ups and wardrobe styling.
Ready to schedule senior portraits?
Email me at Rebecca@RebeccaLittlePhotography.com, or use the contact form in the menu box at the top of the page. You can also text or call me at 626-676-9295.
Need more info?
Email me at Rebecca@RebeccaLittlePhotography.com, or use the contact form in the menu box at the top of the page. You can also text or call me at 626-676-9295.
I accept QuickPay with Zelle, cash, and credit cards.