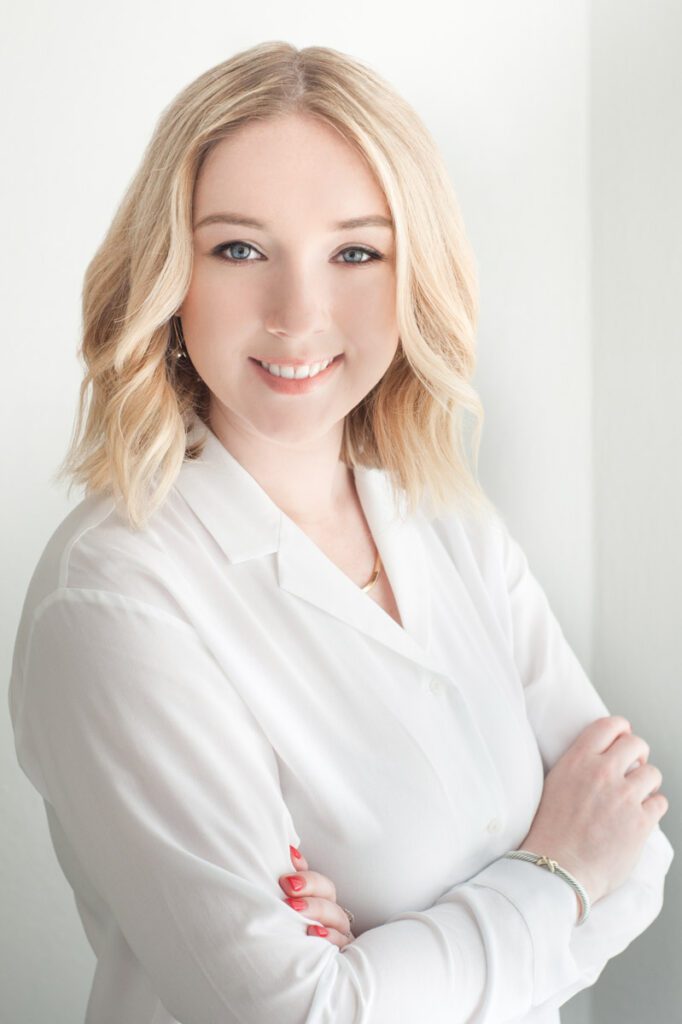 Clothes for headshots
Clothes contribute to the success of your headshots. That's why I'm very clear about what clothes for headshots you should bring to your session.
The image you portray and the mood of your headshot are created by outfit choices, lighting, and background.
The type of headshot you need determines your wardrobe
There are acting headshots and images you need for work, LinkedIn or for a presentation.
Maybe you want a photo for your children or spouse, a portrait that's pretty and would look nice in a frame on a desk. If the photograph is for personal use, you have more leeway with clothing choices.
What clothes to bring to your headshot session
At the minimum, bring something pale (gold, peach, ivory, silver, pink, light gray), something black or dark blue, and something that adds a pop of color (red, purple, kelly green, blue).
Sweaters and scarves add texture and visual interest. It's nice to wrap a large scarf around your shoulders to make it look like a sweater. It's an easy way to add texture and color.
A white shirt is fine, but looks best under a jacket. Your eye goes to the brightest part of the photograph and we want the focus to be on your face. A bright shirt can distract the viewer.
Jewel tones photograph beautifully.
Sapphire, emerald, amethyst, and ruby all have high levels of saturation and look dynamic on film. When they compliment your skin and eye color, the effect is show-stopping. They are usually the best clothes to bring for headshots.
Pale colors can be a good headshot wardrobe choice
Some photographers think that pale colors can make you look washed out. They can if photographed incorrectly. Pastels can look ethereal and dreamy, but are not always right for acting or work headshots.
Pale colors work perfectly for my favorite backlit shots. Backlighting is when the light is behind you. I love to bounce it off a white surface and back into your face so it wraps around you, softens your skin, smooths out any lines, and looks super flattering.
Backlighting doesn't work as well with dark colors, but works wonderfully with brights and pastels.
Always bring black
When I recommend clothes for headshots, I always recommend you bring a black t-shirt, blouse or wrap dress. It can't be beaten as a wardrobe staple. Look at the image below. The simple black t-shirt doesn't distract from her face and works well tonally with this black and white image.
Clothes for headshots – Traditional or non-traditional?
Conservative professions like lawyers or financial advisors should stick to a suit and tie to show professionalism and a steady presence.
Artists, architects, designers, and anyone in the arts are assumed to be less conservative and can wear colorful clothing. Open shirts, lower cut blouses, abundant jewelry, and disheveled hair can all work with less formal headshots.
Necklines and turtlenecks
In terms of necklines for clothes for headshots, V-necks and scoop necks are the most flattering. They open up your face and make you look more approachable.
Turtlenecks are ok for a specific look. A black turtleneck can look serious and commanding, and good for someone who wants to appear confident and in charge.
A black turtleneck is classic, polished look (think Audrey Hepburn). In my experience, if worn alone, it looks best with hair that's cropped close or pulled back off the face. If you're wearing a jacket over it, your hair can be loose.
A dark turtleneck directs all the focus to your face, which is ideal for a headshot. If you really love the look, it's fine to request it, but make sure to also get shots wearing a v-neck or scoop-neck.
Note: A turtleneck is called a roll neck or polo neck in the United Kingdom and a skivvy in Australia.
Studio wardrobe is available
Most of my studio wardrobe is geared toward portrait sessions. I have all kinds of romantic outfits that include tulle, feathers and sequins, tea-stained fabrics and lace, romantic skirts, and gossamer tops. We can mix and match my pieces with yours.
For headshots, I have a variety of scarves that I sometimes use a wrap to mimic a top or to add a bit of color
Questions about clothes for headshots?
Use the contact form at the top under MENU or at the bottom of the page, or email me directly at Rebecca@RebeccaLittlePhotography.com
Email me to schedule your session
Use the contact form or email me directly at Rebecca@RebeccaLittlePhotography.com
My studio is in Pasadena, CA and I accept QuickPay with Zelle, Venmo, credit and debit cards, cash, and check.